Coolo Recycling Warriors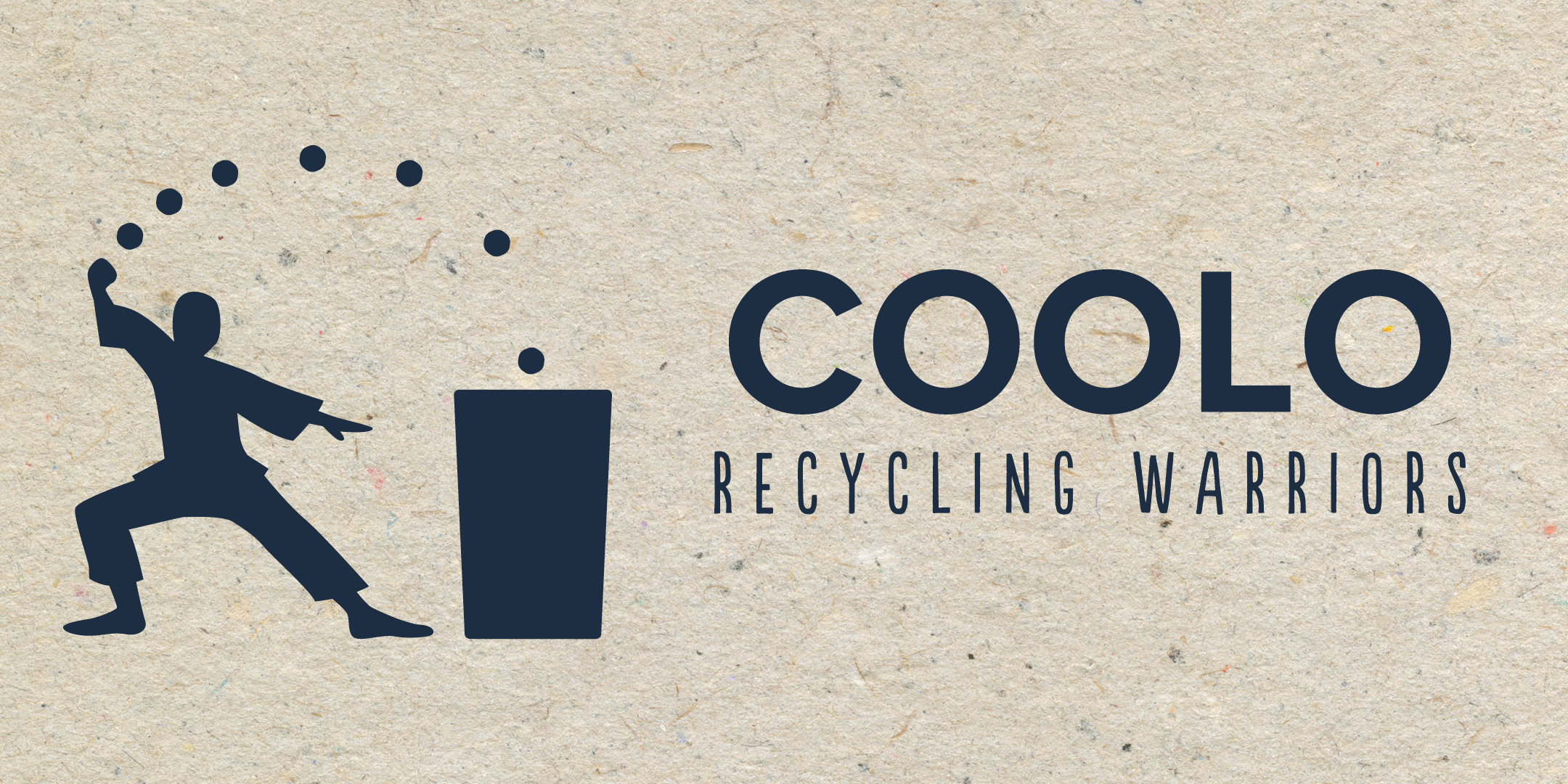 Become a Coolo Recycling Warrior, where you can make a difference!
Cooleman Court has embarked on a journey with the goal of setting the benchmark for recycling in shopping centres. From this goal, the Coolo Recycling Warriors program has been established. It's a commitment between our staff, retailers, contractors and community to fight the war on waste!
Stage 1 - Coolo Recycling Warriors Program
Our first step in creating a sustainable shopping centre was through the implementation of the Coolo Recycling Warriors program. It's a combined commitment between Cooleman Court's staff, retailers and contractors to responsibly recycle the maximum amount of waste for a bright future for our environment.
Measurements put in place from the Coolo Recycling Warriors program include:
🌿 6 streams of source separation in the bin room (mixed recycling, secure paper, cardboard, food organics, used cooking oil & general waste)
🌿 Introduction of ActSmart bins throughout the Centre along with dedicated recycling bins for aluminum cans, plastic & glass bottles and take-away coffee cups
🌿 Monthly waste meetings to review the performance and discuss waste initiatives and opportunities
🌿 Sustainability measures in the centre to reduce energy and water usage
Our retailers are amazing advocates for sustainability and contribute in the following ways:
🌿Bakers Delight donate their left-over bread to local charities on a daily basis
🌿 Freddy Frapples donate organics to local farmers & schools to be used as feed or made into compost. All waxed fruit boxes are also returned to their suppliers for reuse.
🌿 Home Grown Meats give their offcuts to companies that recycle the product into candles, soaps and lotions.
🌿 Our cafes and food outlets separate and recycle food organics. Over 650 tonnes was diverted from landfill in the last 12 months!
🌿 Our major retailers are also in this fight against waste and they have their own programs in place by donating food to charities to feed the needy.
Since implementing Stage 1 of the program, 85%* of Cooleman Court's waste is now diverted from landfill!
*as at February 2022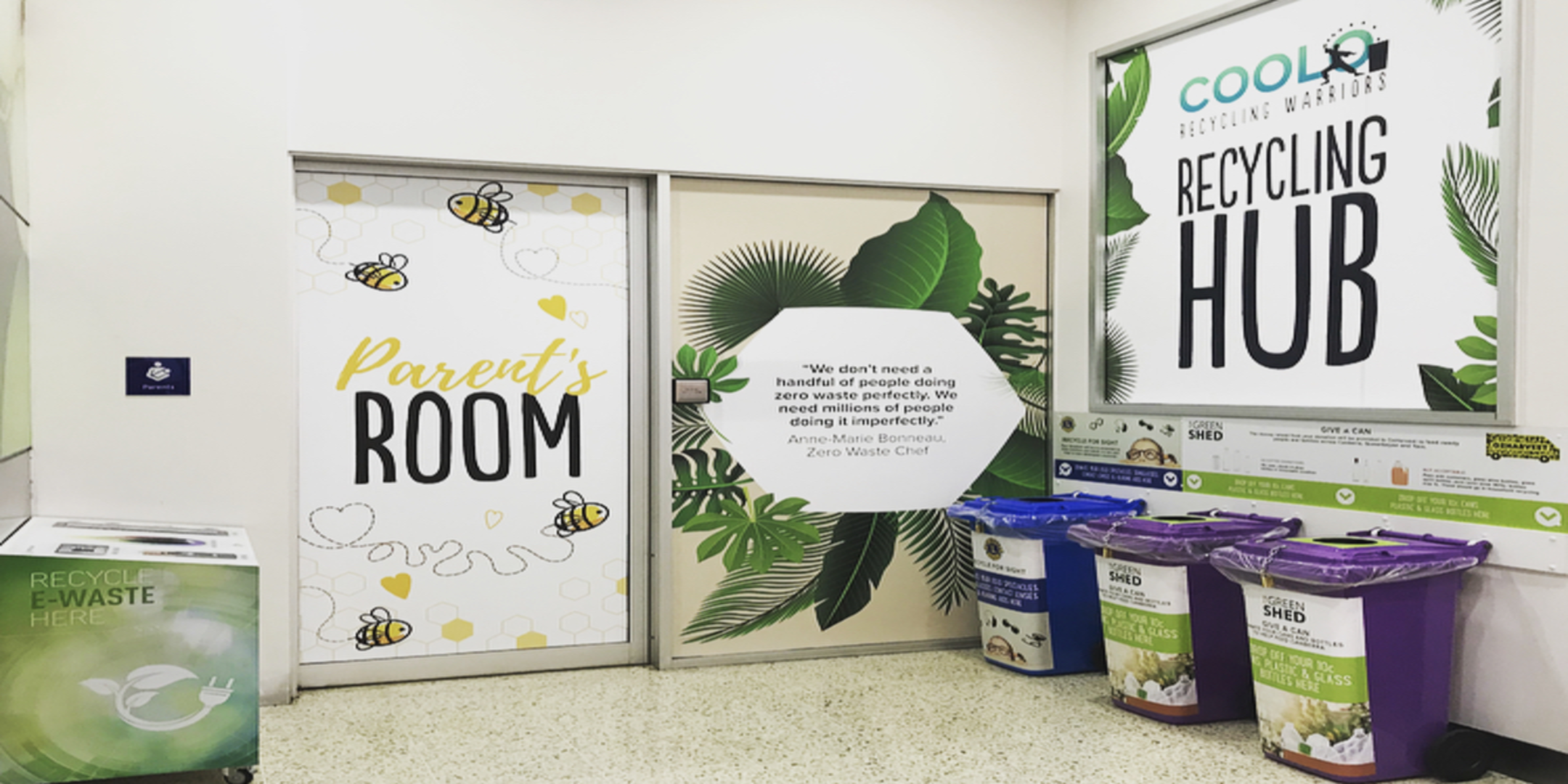 Stage 2 - Coolo Recycling Hub
The introduction of the Coolo Recycling Warriors program was just the beginning. In January 2020, Cooleman Court installed the Coolo Recycling Hub on the ground floor (next to the elevator). It's an extension to our community to help us our fight on the war on waste!
You too can become a Coolo Recycling Warrior by contributing to the Coolo Recycling Hub! Not only will you make a positive impact for our environment, but you'll help those in need too. Check out the information below to find out more about what you can recycle at the Coolo Recycling Hub and how your contribution will help those in need!
Next time you're shopping at Coolo we encourage you to bring along your recycle items and visit the Coolo Recycling Hub. Let's fight the war on waste together!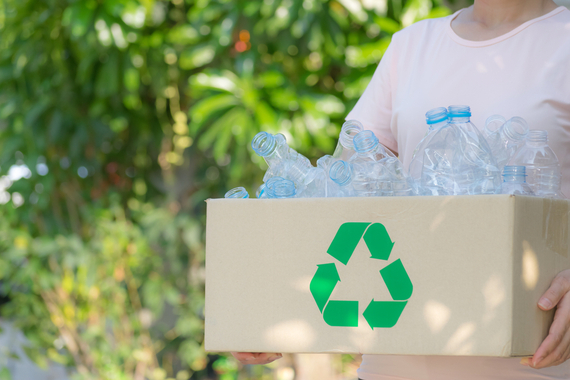 Recycle your cans & bottles and you'll help feed those in need
You can recycle your 10c cans, plastic and glass bottles in the purple bin located within the Coolo Recycling hub.
All money raised from your contribution is donated to OzHarvest ACT! You're not only helping divert food waste from landfill but also helping feed those in need throughout the ACT and surrounding NSW towns.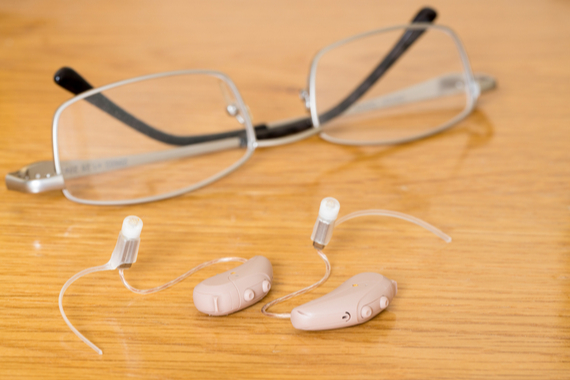 Help others to see and hear again through recycling
Recycle your old spectacles, sunglasses, hearing aids and contact lenses in the blue 'Recycle for Sight' bin at the Coolo Recycling Hub.
Your contribution will be collected by the Lions Club International where it is cleaned, medically graded and sent to adults and children in less fortunate countries. Clean out your draw and give the gift of sight and hearing!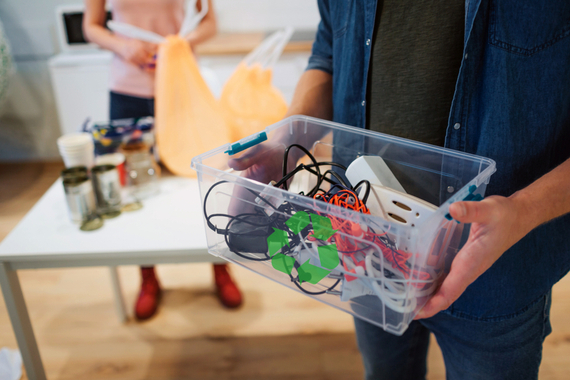 A range of e-Waste can be recycled at Coolo
The Coolo Recycling Hub has a dedicated e-Waste recycling bin where you can recycle your batteries, printer cartridges, mobile phones, computer accessories and gear (such as monitors, cables, keyboards and laptops).
Many of the recycled e-Waste items contain valuable materials that can be reused. It means less raw materials are needed to be extracted from our Earth to create new products!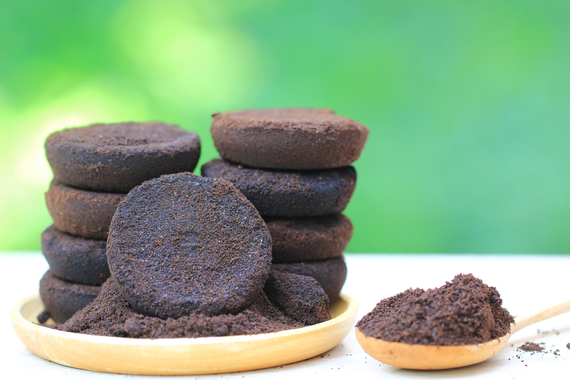 Responsible recycling of your cup of coffee at Coolo
One way our cafes are helping fight the war on waste is by recycling their coffee grounds. The coffee grounds are collected from Cooleman Court by a local farmer and are used on the farmer's crops.
You can responsibly recycle your take-away coffee cup too! There are dedicated recycling bins on the ground floor and level 1 where you can empty the left-over contents and recycle both the coffee cup and lid.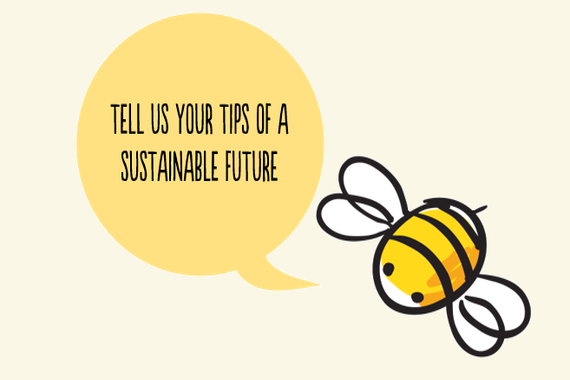 Share your recycling know-how with us
Do you have a recycling tip that you'd like to share with us? Or maybe a recycling idea that you think we could implement at Coolo? If so, we'd love to hear from you!
Share your tip or idea with us by emailing info@coolmencourt.com.au. With your permission, your tip or idea could be shared in our next edition of the 'What's Bzzz'n at Coolo' newsletter!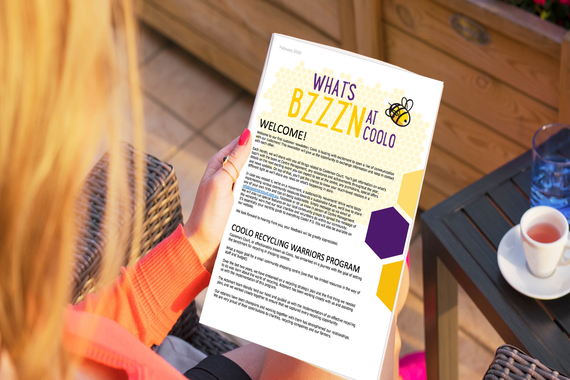 Find out What's Bzzz'n at Coolo
Make sure you check out the latest edition of the 'What's Bzzz'n at Coolo' newsletter to keep up-to-date with the latest news, events, retailer offers, community initiatives and sustainability ideas.
You can download your free copy here or pick-up a printed copy in-centre, just look for the wooden newsletter stands!