Discount & Variety
DIY Smoky Jac-O'-Lantern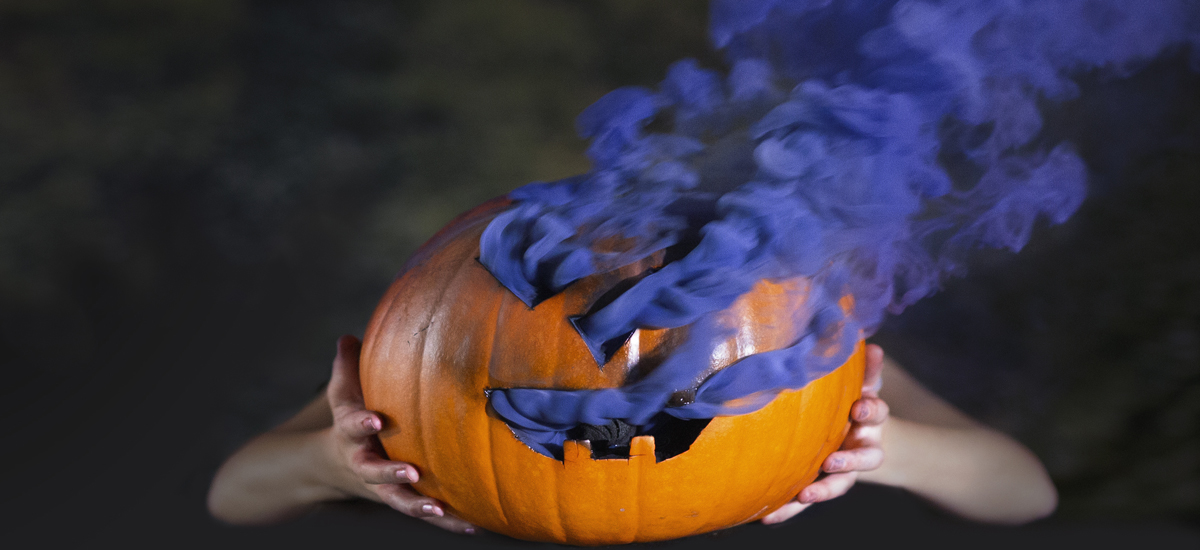 This spooky Jac-o'-lantern will capture the attention of every trick-or-treater, and it's incredibly easy to do!
Here's how our smokin' pumpkin turned out, and everything you need to know to DIY.
What you'll need:
Jac-o'-lantern
Ladle
Carving knife
Pen
Coloured smoke grenades


Pumpkin hacking hacks
Step 1. Choose wisely
Firstly, make sure you purchase a healthy pumpkin. Look for a hard pumpkin with minimal damage to the skin, and one that sits steady. This will give your pumpkin the longevity it deserves.
Step 2. Draw your design
Using a pen, draw your design on the pumpkin. It's a good idea to practice on paper first, or cut-out shapes and draw around them.
Step 3. Take it off
When you're ready, it's time to take it off—your pumpkin lid that is. Cut your lid at an angle to stop it from falling inside.
Step 4. Scoop it out
Now, grab your trusty ladle and start scooping out all that goop. Try to get as much as you can out. The drier the pumpkin, the longer it will last.
Step 5. Cut it out
Here's the tricky part, follow your drawing and carve out your design.
When you've finished carving your Jack-o'-lantern, find an outdoor area with plenty of ventilation to start the ghostly smoking act.
Smoke it!
Step 1. Safety first
Make sure you read the instructions on your smoke grenade, including the safety warnings.
Step 2. Light it up
Place your stand inside the pumpkin, unwrap your smoke grenade from its packaging and place it in inside the stand. Here comes the fun part. Grab your long igniter and light the smoke grenade.
Step 3. Capture it
Watch the spooky magic unfold and capture it with your camera!
Tips for the best photo:
Move around slightly with your pumpkin every few seconds to break-up the smoke.
Stand in front of a dramatic background, like a dark forest, for a super spooky photo.
The smoke grenades will only burn for a few minutes, so make sure you set everything up before lighting it.
Get a few extra smoke grenades in a variety of colours to test your favourite.
A few things to note:
These grenades do burn hot so make sure you have a stand and avoid touching them.
You will need to light these using a long igniter, rather than a match. Always have water on standby.
Make sure you wear old clothing in case any residue gets on you.
INSPIRATION
Check this out