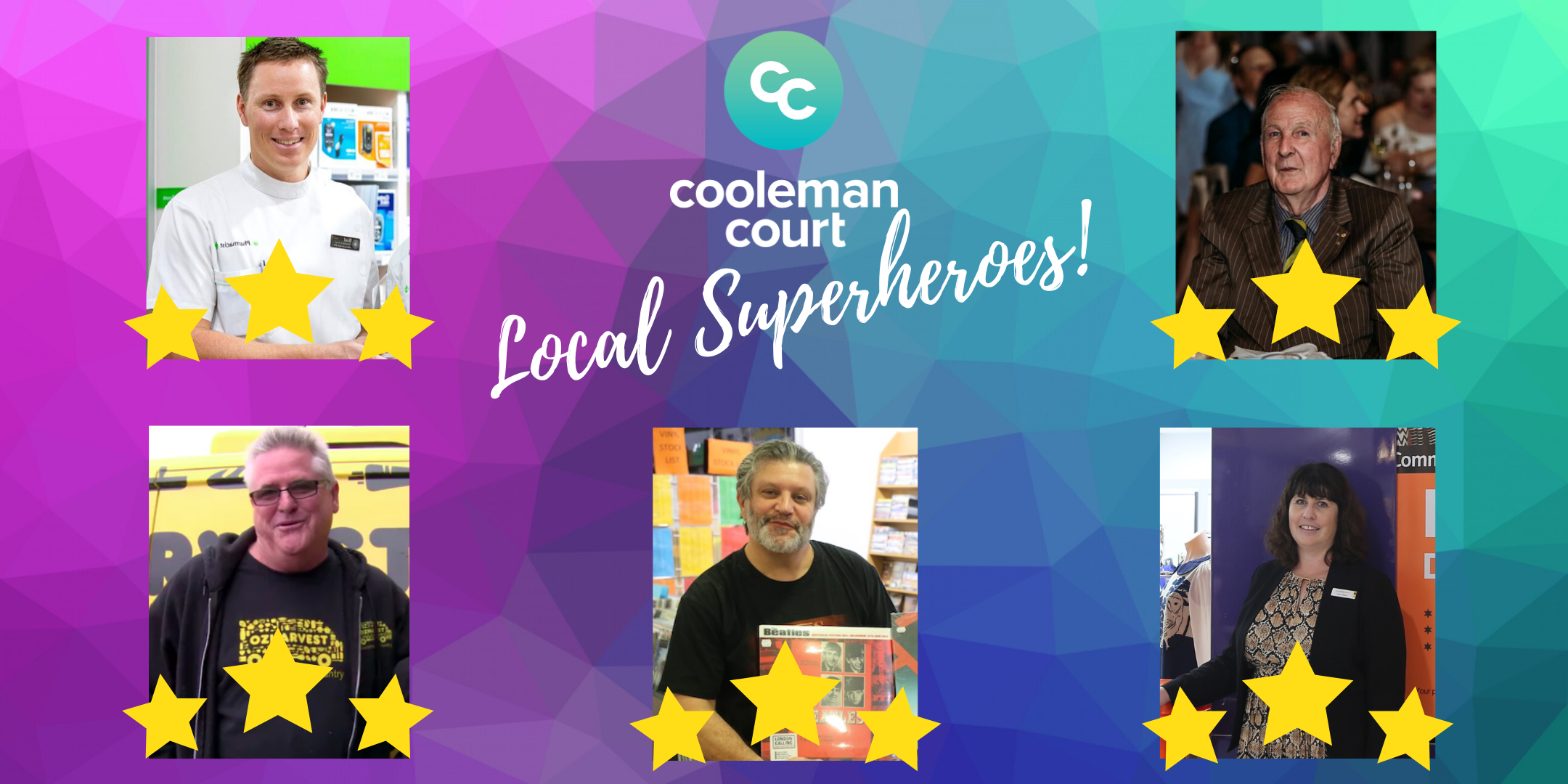 Not all heroes wear capes
Did you know that Cooleman Court have their very own superheroes?
This superhero week (27 March – 3 May) we are celebrating those who have made an outstanding contribution to our community. It's a time to pay tribute to the special people who have made a super human effort to help those in need and to say 'thank you'.
Bradley Butt – Cooleman Court Pharmacy

We are really lucky to have Brad as part of the pharmacy team at Cooleman Court Pharmacy. In 2019, Brad received the Most Outstanding Community Pharmacist of the Year award for his contribution to community pharmacy in helping improve health outcomes for patients and being a leader in the industry.
Recently, Brad and the team have continued to head fantastic community initiatives including:
💥Minimal-contact delivery for over-the-counter products, scripts or general pharmacy supplies to local and regional areas such as Uriarra Village
💥In-home vaccinations for people who can't leave due to isolation requirements
💥In-business and regional area vaccinations to help ensure everyone has access to vaccines
💥Providing accurate health, medical and lifestyle information on their social media channels to help keep the community informed and up-to-date
A strong commitment to the health and well-being of our community is definitely a superhero attribute. Brad, you are our local superhero!
Ken Leonard – Lions Club International

Ken's super power is giving the power of sight to those in need. Ken is the Chairman of the Lions Recycling Club and has been an active member of the Lions Club for the past 44 years. One of Ken's amazing initiatives is the 'Recycle for Sight' program which sees the refurbishment of 600,000 pairs of used spectacles annually which results in forwarding half a million graded pairs overseas to support adults & children across the Asian and African regions.
To help contribute to this great cause Cooleman Court teamed-up with Ken to collect used spectacles, sunglasses, contact lenses and hearing aids as part of the Coolo Recycling Warriors program. The first collection from Cooleman Court saw 2 industrial sized garbage bags filled to the brim with donations! To make your donation to Recycle for Sight just look for the big blue donation bin located in the Coolo Recycling hub on the Ground Floor.
Ken's Recycle for Sight extends further than the collection of spectacles, the program also assists people under the Community Corrections and Work for the Dole programs to gain employment skills through the collection, sorting and distribution processes.
Ken explains "The look on the face of the person receiving a pair of refurbished spectacles can now see as well as you and me, cannot be described, the handshake, and the look in the recipient's face cannot be described- it simply says "thank you" in every language." We think the gift of giving sight is a super power in itself. Well done to our superhero Ken!
Dave Burnett - OzHarvest

Not all superheroes wear capes, this one wears a smile on his face non-stop! Dave is the ACT Territory Manager for OzHarvest and is passionate about food rescue. You'll find Dave buzzing around the OzHarvest kitchen, coordinating the collection of food as well as the delivery of delicious cooked meals to those in need. By salvaging food it not only helps feed our community it also reduces the amount of food that ends up in landfill every day.

Cooleman Court are very lucky to work with Dave in raising funds for OzHarvest through the 'Give A Can' donation bin located in the Coolo Recycling Hub. Funds are raised and donated directly back to OzHarvest Canberra from the donations of 10c plastic, glass and aluminium bottles and cans.

In November the Centre Management team spent the day cooking with Dave and the team in the OzHarvest kitchen where we made meals for patients and their families staying in John James Village. It was certainly a highlight of our working year and was truly inspiring to see the positive impact that Dave and OzHarvest team have within our community. As you can imagine, Dave's zest for life and passion for food rubbed off on us and we were smiling all day as well as learning new ways in which we can utilise food in the kitchen.

This superheroes week we acknowledge Dave as our super-smiley super hero and applaud him for his powerful contribution to those in need within our community as well as his continuing efforts to reduce food wastage for our planet!
Frog Harris – Songland Records

Did you know that from the last record sale day Frog and the team raised $10,000 for the RSPCA ACT? Being an advocate for animals and raising much needed funds to support animals in need is what is defined as a superhero in our eyes!
Songland Records will be holding their next record sale day in June where all funds raised will be donated to the RSPCA. So, how can you help? You can start donating your unwanted vinyl, DVDs, cassettes, VHS tapes or DVDs to Songland Records. Make sure you keep an eye out for details on the next record sale day and come along and pick up a treasure. Not only will you be fueling your sole with quality music and entertainment, 100% of your purchase will go towards the animals at the RSPCA.
Check out this awesome article here from City News about Frog's fundraising efforts for the RSPCA as well as his love for music.
Ruth Zanker – Communities@Work

Ruth Zanker is the Director of Social Programs and Volunteering for Communities@Work. For the past 25 years, Ruth has dedicated her career towards helping individuals and families in need within our communities to gain access to food and accommodation as well as raising much needed funds and supplies through retail and volunteering efforts.

At Cooleman Court we have the absolute pleasure of working alongside Ruth with Cooleman Court's continuous Communities@Work food drive, which is located in the Coolo Recycling Hub. In December the Communities@Work Christmas Drive saw trolley loads of food donations from Cooleman Court being collected by Communities@Work in addition to 100% of the ticket sales from the 'Make A Teacher a Gift' workshop being donated to Communities@Work. In recent times, the bins have been filled with essential items to help with those restricted due to COVID-19.

This week we acknowledge Ruth's outstanding contribution and super-human efforts towards helping those in need within the community. This marks Ruth as a superhero in our books!